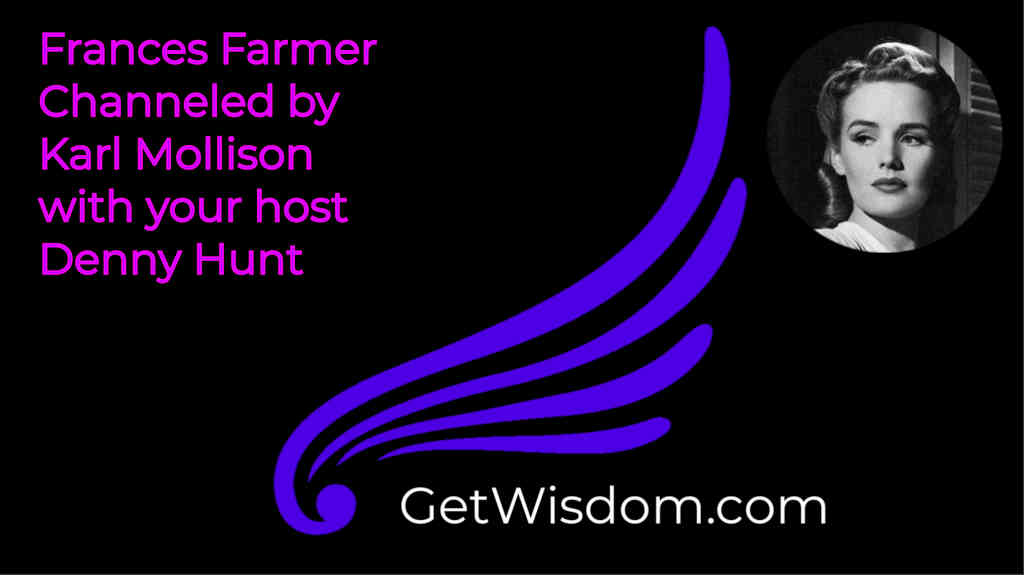 This Video Requires a FREE Participant Membership or Higher


Frances Farmer Channeled by Karl Mollison 02Feb2019
Frances Elena Farmer September 19, 1913—August 1, 1970
Frances was an American actress and television host. She appeared in over a dozen feature films over the course of her career, though she garnered notoriety for the various sensationalized accounts of her life, especially her involuntary commitment to a psychiatric hospital and subsequent mental health struggles.
In 1931, while a senior at West Seattle High School, Farmer entered and won $100 from The Scholastic Art & Writing Awards, a writing contest sponsored by Scholastic Magazine, with her controversial essay "God Dies."
A native of Seattle, Washington, Farmer began acting in stage productions while a student at the University of Washington. After graduating, she began performing in stock theater before signing a film contract with Paramount Pictures in 1936.
She made her film debut in Too Many Parents (1936), followed by a lead role in the musical western, Rhythm on the Range (1936). Unhappy with the opportunities given to her by the studio, Farmer returned to stock theater in 1937 before being cast in the original Broadway production of Clifford Odets's Golden Boy, staged by New York City's Group Theatre.
She followed this with two Broadway productions directed by Elia Kazan in 1939, but a battle with depression and binge drinking caused her to drop out of a subsequent Ernest Hemingway stage adaptation.
Farmer returned to Los Angeles, earning supporting roles in the comedy World Premiere (1941) and the film noir Among the Living (1941). In 1942, publicity of her reportedly erratic behavior began to surface, and after several arrests and committals to psychiatric institutions, Farmer was diagnosed with paranoid schizophrenia. At the request of her family, particularly her mother, she was relocated to an institution in her home state of Washington, where she remained a patient until 1950.
Farmer attempted an acting comeback, mainly appearing as a television host in Indianapolis on her own series, Frances Farmer Presents. Her final film role was in the 1958 drama The Party Crashers, after which she spent the majority of the 1960s occasionally performing in local theater productions staged by Purdue University.
In the spring of 1970, she was diagnosed with esophageal cancer, of which she died several months later, aged 56.
She has been the subject of various works, including two feature films and several books, many of which focus heavily on her time spent institutionalized, during which she claimed to have been subject to various systemic abuses. Her posthumously-released autobiography, Will There Really Be a Morning? (1972) details these claims significantly.
A disputed 1978 biography of her life, Shadowland, alleged that Farmer underwent a transorbital lobotomy during her institutionalization, and a 1982 biographical film based on her life depicted this event as truth, resulting in renewed interest in her life and career.