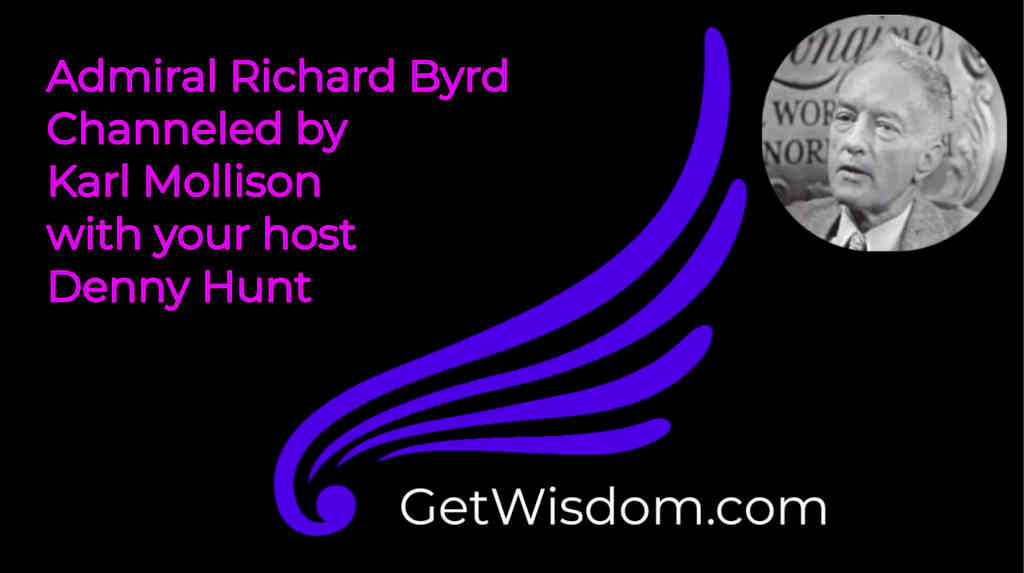 This Video Requires a FREE Participant Membership or Higher


Admiral Richard Byrd Channeled by Karl Mollison 06Dec2017
From https://en.wikipedia.org/wiki/Richard_E._Byrd
Admiral Richard Byrd, USN (October 25, 1888 – March 11, 1957)
was an American naval officer who specialized in feats of exploration. He was a recipient of the Medal of Honor, the highest honor for valor given by the United States, and was a pioneering American aviator, polar explorer, and organizer of polar logistics. Aircraft flights in which he served as a navigator and expedition leader crossed the Atlantic Ocean, a segment of the Arctic Ocean, and a segment of the Antarctic Plateau. Byrd claimed that his expeditions had been the first to reach both the North Pole and the South Pole by air.
Admiral Byrd was interviewed by Lee van Atta of International News Service aboard the expeditions command ship USS Mount Olympus, in which he  discussed the lessons learned from the operation. The interview appeared in the Wednesday, March 5, 1947 edition of the Chilean newspaper El Mercurio, and read in part as follows:
"Admiral Richard E. Byrd warned today that the United States should adopt measures of protection against the possibility of an invasion of the country by hostile planes coming from the polar regions. The admiral explained that he was not trying to scare anyone, but the cruel reality is that in case of a new war, the United States could be attacked by planes flying over one or both poles. This statement was made as part of a recapitulation of his own polar experience, in an exclusive interview with International News Service.
Talking about the recently completed expedition, Byrd said that the most important result of his observations and discoveries is the potential effect that they have in relation to the security of the United States. The fantastic speed with which the world is shrinking – recalled the admiral – is one of the most important lessons learned during his recent Antarctic exploration. I have to warn my compatriots that the time has ended when we were able to take refuge in our isolation and rely on the certainty that the distances, the oceans, and the poles were a guarantee of safety."
Here is his story from the other side …
Karl Mollison is a psychic medium and channeler who provides remote spirit releasement and rescue, spirit clearings, karmic repair, channeling services and divine healing worldwide. Karl also facilitates life-transforming trauma resolution and replacement of limiting beliefs in person or by phone nationally and internationally: https://www.Mind-BodyAdvances.com. He is a certified Basic and Advanced DNA ThetaHealing Instructor and has studied a number of shamanic healing modalities. He is a Level IV Healing Touch apprentice, was trained in Reconnective Healing by Dr. Eric Pearl, is Board Certified as a Consulting Hypnotist by the National Guild of Hypnotists, and a Certified Practitioner of Holographic Memory Resolution.™ Prior to starting his spiritual path as a healer, he was a research scientist and inventor, authoring over 100 published abstracts and peer-reviewed journal articles, as well as five U.S. patents for drugs and medical devices.