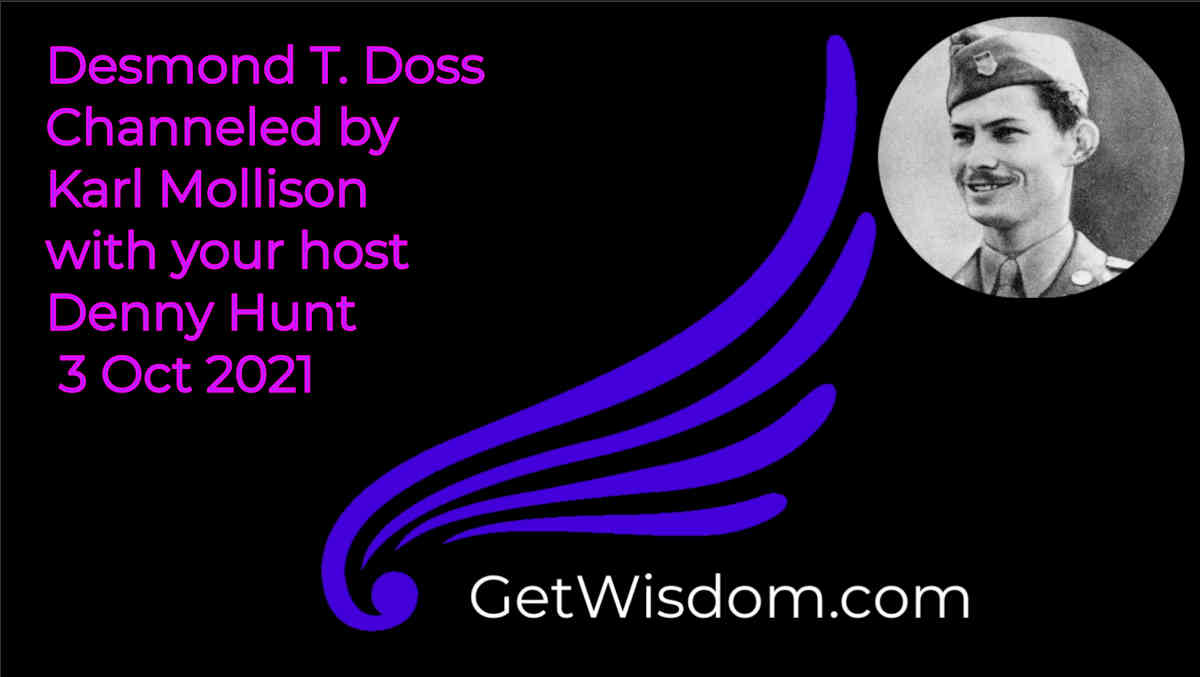 This Video Requires a FREE Participant Membership or Higher


Desmond T. Doss Channeled by Karl Mollison 03 Oct 2021
From https://www.lva.virginia.gov/public/dvb/bio.php?b=Doss_Desmond_Thomas
Desmond Thomas Doss (7 February 1919–23 March 2006), recipient of the Medal of Honor, was born in Lynchburg and was the son of William Thomas Doss, a carpenter, and Bertha Edward Oliver Doss, who worked at the Craddock-Terry Company shoe factory. He went to work for a lumber company after completing one year of high school. Raised as a strict Seventh Day Adventist, he became a deacon of the Park Avenue Seventh Day Adventist Church when he was twenty-one.
In March 1941 Doss began working as a ship joiner at the Newport News naval shipyard. After the United States entered World War II, he was offered a military deferment but chose instead to join the army on 1 April 1942. He later explained, "I felt like it was an honor to serve my country according to the dictates of my conscience." Doss married Dorothy Pauline Schutte, of Richmond, on 17 August 1942 before going on active duty. Although his faith forbade him from bearing arms, Doss willingly served in the military. "While I believe in the commandment 'Thou shall not kill,'" he stated in October 1945, "and that bearing arms is a sin against God, my belief in freedom is as great as that of anyone else, and I had to help those boys who were fighting for it."
Rather than refer to himself as a conscientious objector, Doss preferred the term "conscientious cooperator" and specifically requested assignment to medical duty where he could help save, rather than have to take, human lives.
Doss became a company aid man, or medic, in the 307th Infantry Regiment, 77th Infantry Division. He experienced varying degrees of harassment for his religious beliefs, which included observing Saturday as the Sabbath and not eating meat. Doss was mocked when he knelt to pray next to his bunk and was accused of shirking his duty because he did not carry a weapon. That harassment ended in July 1944 when his division took part in the liberation of Guam from the Japanese. For his actions during the sustained operations on Leyte in the Philippines from November 1944 to February 1945, Doss received a Bronze Star for meritorious service.
During the heavy fighting at Okinawa that began on 29 April 1945, Doss undertook a series of remarkable actions that earned him the nation's highest military honor and the nickname the Wonderman of Okinawa. The 77th Infantry took part in the intense, bloody fighting that became the last large engagement of World War II. As a private first class, Doss was in the thick of the battle and ministered to the wounded between 29 April and 21 May. On the first day he was credited with rescuing seventy-five men who had come under withering artillery, mortar, and machine-gun fire at the top of a cliff. "They had no way of getting back and I could not leave them up there," he later said. "I was the only medical corpsman with them, so I just went ahead and continued to pick up the wounded still lying in front of the lines and then began the job of getting them off the cliff." He later said that his commanding officer wanted to credit him with saving a hundred lives, but Doss estimated the number at fifty, and they compromised on seventy-five. In the words of his Medal of Honor citation, Doss "refused to seek cover and remained in the fire-swept area with the many stricken, carrying them one by one to the edge of the escarpment and there lowering them on a rope-supported litter down the face of a cliff to friendly hands."
On 2 May 1945, facing heavy machine-gun fire, Doss rescued a wounded man 200 yards in front of the American lines. Two days later he made four trips under fire to treat and save four wounded men within twenty-five feet of a heavily defended Japanese cave. On 5 May, Doss braved Japanese artillery fire to attend a wounded artillery officer, whom he moved to safety and to whom he then administered plasma. Later that day he carried another wounded soldier 100 yards to safety while under enemy shelling and small-arms fire. During a night attack on 12 May, while he was tending to wounded soldiers, an exploding grenade seriously injured him in both legs, but he dressed his own wounds rather than call other medics away from the battle. Five hours later, while being carried from the battlefield, Doss jumped off his stretcher and directed other medics to help a more critically wounded soldier. After being struck in the arm by enemy fire, Doss used a rifle stock as a splint and crawled about 300 yards to a medical aid station.
Doss was the first conscientious objector to receive the Medal of Honor. Promoted to corporal, he joined fourteen other men who received their medals at the White House on 12 October 1945. Doss rode the bus to Lynchburg two weeks later for a parade in his honor. He spent about six years in military and Veterans Administration hospitals recovering from his wounds and was never physically able to work at a full-time job after that. While Doss was in the veterans hospital in Richmond, doctors discovered that he had contracted tuberculosis. He had a lung and five ribs removed, and later, in 1976, he lost his hearing suddenly.
Doss moved to Lookout Mountain in northwestern Georgia in the 1950s and built a house in the town of Rising Fawn, where he lived with his wife and their son. She died on 17 November 1991 following a car accident. Doss had many public speaking engagements after appearing on the television program This Is Your Life in 1959.
He also worked with Seventh Day Adventist scouting programs. Camp Desmond T. Doss, a training facility in Grand Ledge, Michigan, for young Seventh Day Adventists about to enter military medical service, was named in his honor in 1951. A section of Route 2 in Fort Oglethorpe, Georgia, became the Desmond T. Doss Medal of Honor Highway in 1990. Terry L. Benedict completed a documentary film, The Conscientious Objector, in 2004. A bronze statue of Doss, depicted in uniform and saluting, was unveiled in May 2007 at Veterans Memorial Park, in Collegedale, Tennessee.
On 1 July 1993 Doss married Frances May Duman, a widow with three adult children. She wrote Desmond Doss: In God's Care (1998), reprinted with minor changes as Desmond Doss, Conscientious Objector (2005). Desmond Thomas Doss died at his home in Piedmont, Alabama, of a respiratory ailment on 23 March 2006 and was buried in the Chattanooga National Cemetery, in Tennessee.