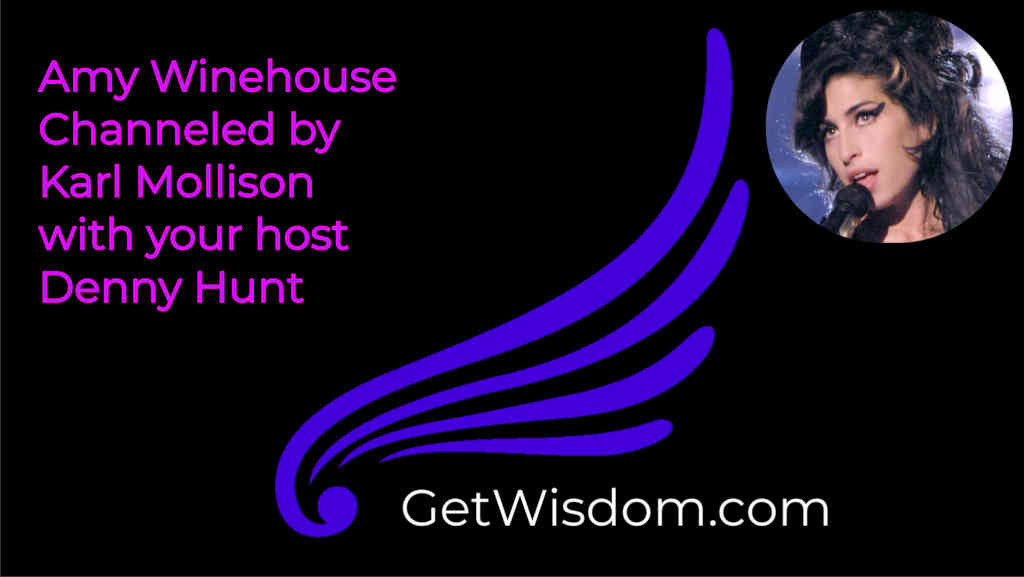 This Video Requires a FREE Participant Membership or Higher


Amy Winehouse Channeled by Karl Mollison 13Nov2019
From https://en.wikipedia.org/wiki/Amy_Winehouse
Amy Winehouse 14 September 1983 – 23 July 201) was an English singer and songwriter. She was known for her deep, expressive contralto vocals and her eclectic mix of musical genres, including soul, rhythm and blues and jazz.
Winehouse's debut album, Frank, was a critical success in the UK and was nominated for the Mercury Prize. Her follow-up album, Back to Black (2006), led to five 2008 Grammy Awards, tying the then record for the most wins by a female artist in a single night, and made her the first British woman to win five Grammys, including three of the General Field "Big Four" Grammy Awards: Best New Artist, Record of the Year and Song of the Year.
She also won the 2007 Brit Award for Best British Female Artist, having been nominated for Best British Album, with Back to Black.
Back to Black went to number one on the UK Albums Chart for two weeks in January 2007, dropping then climbing back for several weeks in February.
In the US, it entered at number seven on the Billboard 200. It was the best-selling album in the UK of 2007, selling 1.85 million copies over the course of the year.
Winehouse was plagued by drug and alcohol addiction.
Winehouse's last public appearance took place at Camden's Roundhouse, London on 20 July 2011, when she made a surprise appearance on stage to support her goddaughter, Dionne Bromfield.
Winehouse died on 23 July 2011. 
Back to Black also topped the Billboard Digital Albums chart on the same week and was the second best-seller on iTunes. "Rehab" re-entered and topped the Billboard Hot Digital Songs chart as well, selling up to 38,000 more digital downloads.
As of August 2011, Back to Black was the best-selling album in the UK in the twenty-first century.
Winehouse's last recording was a duet with American singer Tony Bennett for his latest album, Duets II, released on 20 September 2011. Her father, Mitch Winehouse, launched the Amy Winehouse Foundation with the goal of raising awareness and support for organisations that help vulnerable, young adults with problems such as addiction.
Proceeds from "Body and Soul" benefit the Amy Winehouse Foundation. The song received the Grammy for Best Pop Duo/Group Performance at the 54th Grammy Awards on 12 February 2012. Winehouse's father picked up the award at the awards ceremony with his wife Janis, saying, "We shouldn't be here.
Our darling daughter should be here. These are the cards that we're dealt."
She died of alcohol poisoning on 23 July 2011 at the age of 27. After her death, her album Back to Black became, for a time, the UK's best-selling album of the 21st century. It is also listed as one of the best-selling albums in UK chart history.
The 27 Club? Is music a liability?