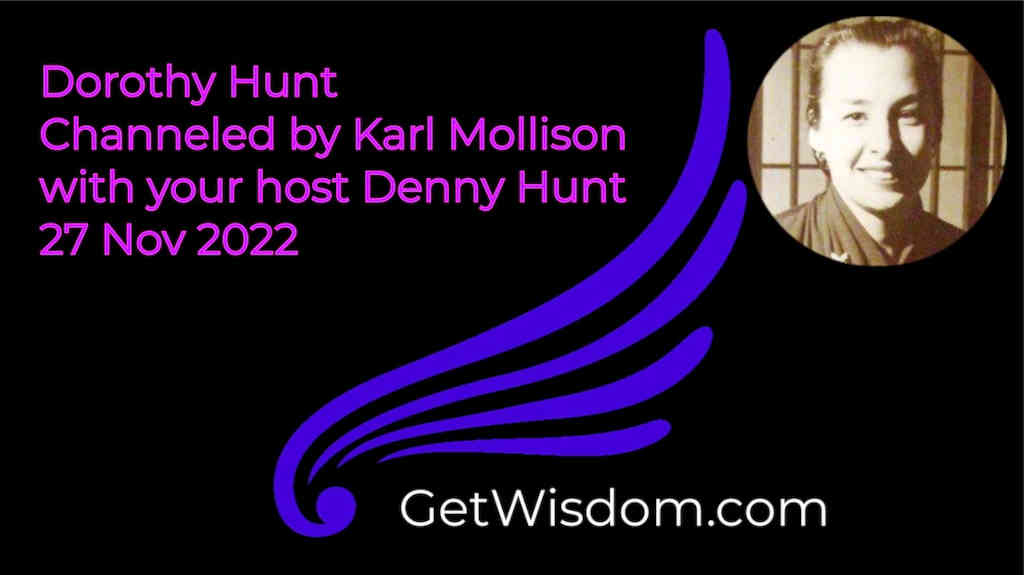 This Video Requires a FREE Participant Membership or Higher


Dorothy Hunt Channeled by Karl Mollison 27Nov2022
From https://spartacus-educational.com/JFKhuntD.htm
Dorothy Wetzel was born in Ohio on 1st April, 1920. She became an employee for the Central Intelligence Agency (CIA) after the Second World War and was stationed in Shanghai, China, where she met her future husband, E. Howard Hunt.
After the war Dorothy worked for the CIA in Paris. She was liaison between the American Embassy and the Economic Cooperation Administration (a CIA front). The couple returned to the United States and settled in Maryland. Her husband spent much of his time involved in covert operations in Mexico, Nicaragua, Guatemala, and Cuba.
On 3rd July, 1972, Frank Sturgis, Virgilio Gonzalez, Eugenio Martinez, Bernard L. Barker and James W. McCord were arrested while removing electronic devices from the Democratic Party campaign offices in an apartment block called Watergate. The phone number of E. Howard Hunt was found in address books of two of the burglars. Reporters were able to link the break-in to the White House. 
Bob Woodward, a reporter working for the Washington Post was told by a friend who was employed by the government, that senior aides of President Richard Nixon, had paid the burglars to obtain information about its political opponents.
Howard Hunt threatened to reveal details of who paid him to organize the Watergate break-in. Dorothy Hunt took part in the negotiations with Charles Colson. According to investigator Sherman Skolnick, Hunt also had information on the assassination of John F. Kennedy. He argued that if "Nixon didn't pay heavy to suppress the documents they had showing he was implicated in the planning and carrying out, by the FBI and the CIA, of the political murder of President Kennedy"
James W. McCord claimed that Dorothy told him that at a meeting with her husband's attorney, William O. Buttmann, she revealed that Hunt had information that would "blow the White House out of the water".
In October, 1972, Dorothy Hunt attempted to speak to Charles Colson. He refused to talk to her but later admitted to the New York Times that she was "upset at the interruption of payments from Nixon's associates to Watergate defendants."
On 15th November, Colson met with Richard Nixon, H. R. Haldeman and John Ehrlichman at Camp David to discuss Howard Hunt's blackmail threat. John N. Mitchell was also getting worried by Dorothy Hunt's threats and he asked John Dean to use a secret White House fund to "get the Hunt situation settled down". Eventually it was arranged for Frederick LaRue to give Hunt about $250,000 to buy his silence.
However, on 8th December, 1972, Dorothy Hunt had a meeting with Michelle Clark, a journalist working for CBS. According to Sherman Skolnick, Clark was working on a story on the Watergate case: "Ms Clark had lots of insight into the bugging and cover-up through her boyfriend, a CIA operative."
Also with Hunt and Clark was Chicago Congressman George Collins. Dorothy Hunt, Michelle Clark and George Collins took the Flight 533 from Washington to Chicago. The aircraft hit the branches of trees close to Midway Airport: "It then hit the roofs of a number of neighborhood bungalows before plowing into the home of Mrs. Veronica Kuculich at 3722 70th Place, demolishing the home and killing her and a daughter, Theresa. The plane burst into flames killing a total of 45 persons, 43 of them on the plane, including the pilot and first and second officers. Eighteen passengers survived."
Hunt, Clark and Collins were all killed in the accident.