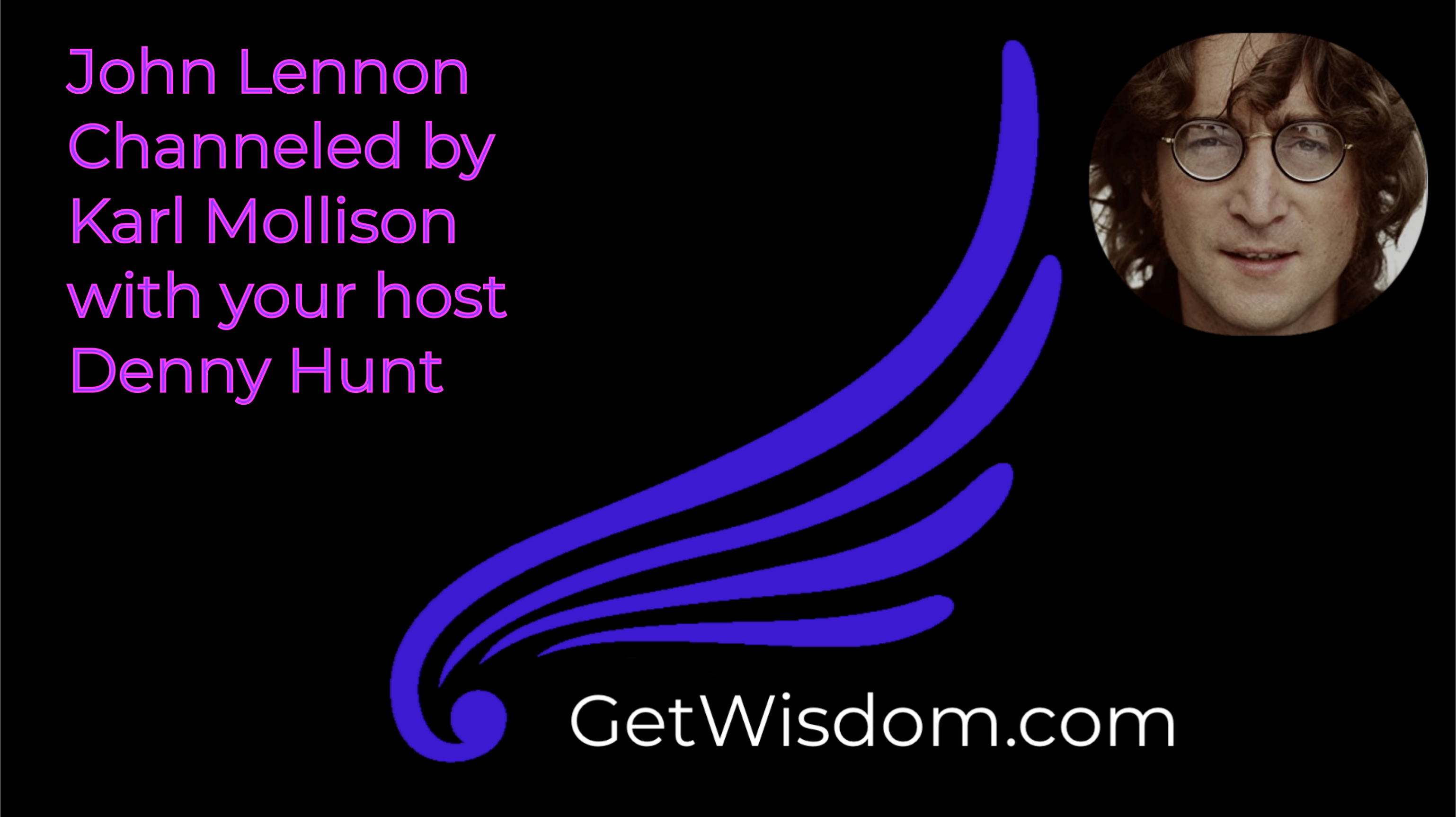 This Video Requires a FREE Participant Membership or Higher


John Lennon Channeled by Karl Mollison 16Jan2018
From https://www.biographyonline.net/music/john-lennon.html
John Lennon was a British singer – songwriter and a key member of the Beatles – a musical and cultural phenomenon. After the Beatles, Lennon went on to have a distinguished solo career. Lennon was also an icon of the 1960s counter-culture revolution and was an anti-war activist.
"If someone thinks that love and peace is a cliché that must have been left behind in the Sixties, that's his problem. Love and peace are eternal." – John Lennon
John Lennon was born, October 1940, during a German air raid in Oxford Street Maternity hospital, Liverpool. During his childhood, he saw little of his father Freddie, who went AWOL whilst serving in the navy. For several years, John was brought up by his mother's sister Mimi.
With Paul McCartney and George Harrison, the first concert of the Beatles was at the Cavern club in Liverpool on 21st March, 1961. After being rejected by many music labels, they eventually signed an agreement with Parlophone in 1962. George Martin who was responsible for signing the Beatles, later said he was not particularly impressed by their demo tapes, but liked their wit and humour – of which Lennon was usually at the forefront.
Beatlemania became a global phenomenon. It marked a shift in musical attitudes, especially in the US. The Beatles success of 1964, was known as the start of the "British Invasion".
During the 1960s, John Lennon began to frequently take LSD and by 1967 was a heavy user. This also co-incided with a period of uncertainty, and he considered leaving the Beatles. The death of Brian Esptein, their manage in 1967 also hit Lennon and the Beatles hard. However, this was also a period of musical inventiveness, with new styles of music helping to create some classic recordings, such as: Sgt. Pepper's Lonely Hearts Club Band.
After the break-up of the Beatles, Lennon pursued a very successful solo career. His first album was released in 1970 with John Lennon/Plastic Ono Band(1970).
In the early 1970s, John Lennon also became a figurehead for those opposed to the Vietnam War. His song "Give Peace a Chance" became an anthem for the anti-war movement. Due to his anti-war stance the Nixon administration tried to have him deported, but after a long struggle he was able to gain a green card in 1976. His song "Imagine" has also become a tremendously influential song; it has been voted 'the most popular song' by the British public.
In 1975, he retreated from the music world, preferring to spend time looking after his new son, Sean.
John Lennon married Cynthia Powell in 1963, though the marriage was kept secret. They had one son, Julian. The marriage broke down in 1967. Lennon married Yoko Ono in March 1969.
On 8 December 1980, John Lennon was shot dead in Dakota, New York. He was shot by David Chapman – an obsessed fan. He later pleaded guilty to second-degree murder and was imprisoned for life.
By 2012, John Lennon has sold 14 million solo albums, whilst the Beatles have become the best-selling group of all time – with an estimated 600 million recording sales worldwide.
Citation: Pettinger, Tejvan. "Biography of John Lennon", Oxford, http://www.biographyonline.net, 28th May. 2007. Updated 31st January, 2017.
Karl Mollison is a psychic medium and channeler who provides remote spirit releasement and rescue, spirit clearings, karmic repair, channeling services and divine healing worldwide. Karl also facilitates life-transforming trauma resolution and replacement of limiting beliefs in person or by phone nationally and internationally: http://www.Mind-BodyAdvances.com. He is a certified Basic and Advanced DNA ThetaHealing Instructor and has studied a number of shamanic healing modalities. He is a Level IV Healing Touch apprentice, was trained in Reconnective Healing by Dr. Eric Pearl, is Board Certified as a Consulting Hypnotist by the National Guild of Hypnotists, and a Certified Practitioner of Holographic Memory Resolution.™ Prior to starting his spiritual path as a healer, he was a research scientist and inventor, authoring over 100 published abstracts and peer-reviewed journal articles, as well as five U.S. patents for drugs and medical devices.