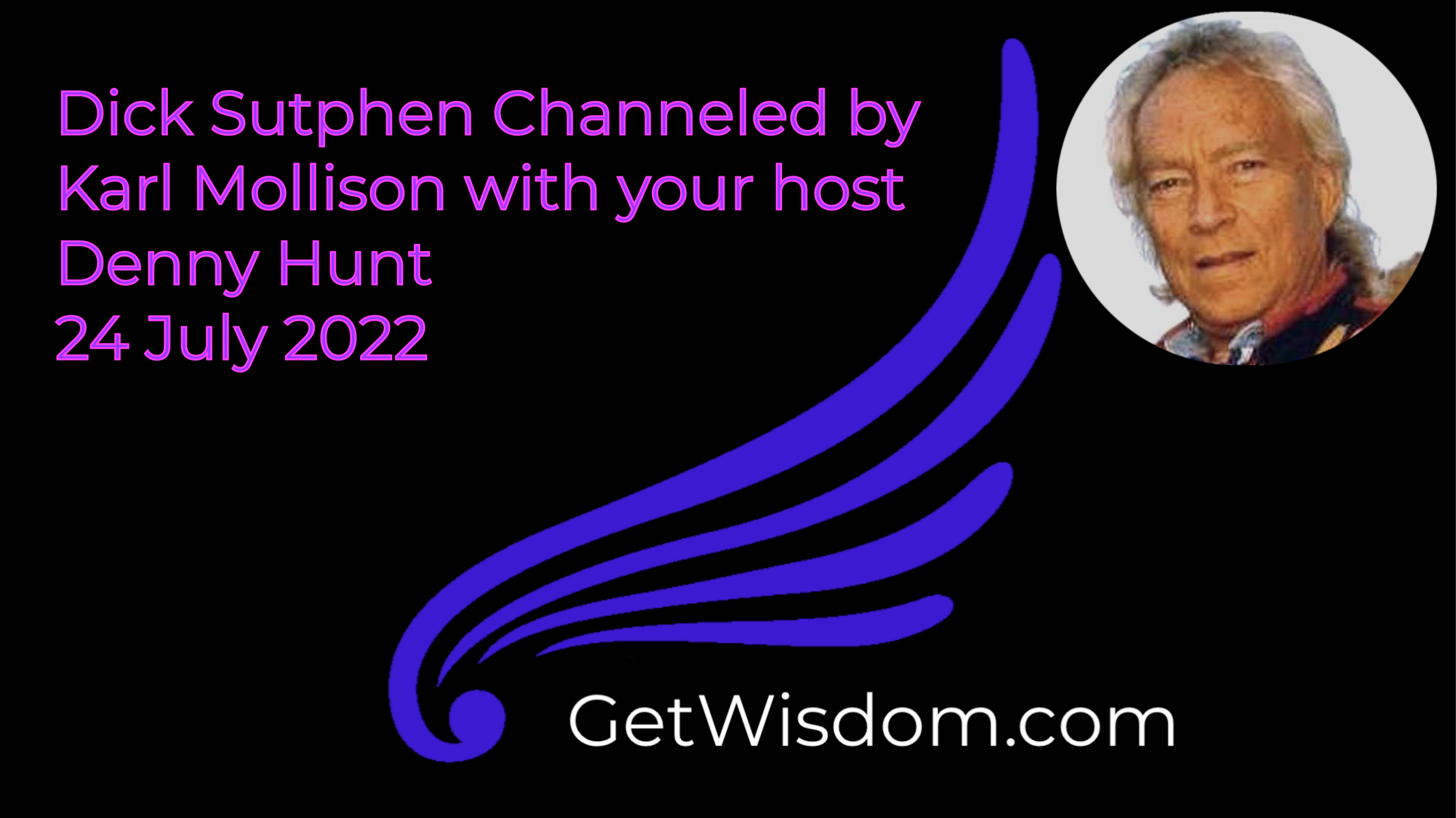 This Video Requires a Supporter Membership or Higher


Dick Sutphen Channeled by Karl Mollison 24July2022
From https://www.dicksutphen.com/about.html and https://www.amazon.com/Dick-Sutphen/e/
Dick Sutphen born April 3, 1937 in Omaha, Nebraska, USA was a psychic researcher, past-life therapist, prolific author and speaker. He began his career offering his metaphysical seminars in the late sixties around Phoenix, Scottsdale, and Sedona, Arizona, and since then over 250,000 people have attended one of his Sutphen Seminars, retreats, or workshops.
He authored 65 books, including the million-copy bestseller, You Were Born Again To Be Together, and he was the first person to put hypnosis programming on tape for sale, creating over 900 audio products between 1976 and 2011. Dick appeared on hundreds of radio and tv shows including Phil Donahue, Good Morning America, and Tom Snyder's Tomorrow Show.
A leader in the field of hypnosis, Dick was honored with many awards throughout his career, including his honorary life-time membership to the International Hypnosis Federation and the Lifetime Achievement Humanitarian Award presented by the Hypnotherapy Academy in May 2019.
He has authored 21 New Age titles⎯seven for Simon & Schuster who calls him "America's Foremost Psychic Researcher." Dick is called "America's leading past-life therapist" by the Body Mind Spirit Festivals in England and Australia. Richard first introduced the Sedona Vortexes to the world in his 1978 bestseller, "Past Lives, Future Loves." Published by Simon Schuster Pocket Books, who calls him "America's Foremost Psychic Researcher.
Also in 1976, he conducted the first nationally televised Past-Life Regressions on the "David Susskind Show" and "Tom Snyder's Tomorrow Show." As a specialist in brain/mind technology, Dick instructs medical professionals in how to use his life-changing techniques.
He has created over 300 mind-programming CDs. Over 190,000 people have attended a Sutphen Seminar, workshop, or retreat, which are conducted in major cities throughout the world. Richard is also a featured speaker at Professional Hypnosis conferences and has appeared on over 400 radio and television shows.
As a world recognized Spiritual Hypnotherapist, Dick annually conducted several training seminars to teach others to be professional hypnotists. Working with Roberta Sutphen (a Spiritual Medium) he was available for Private Sessions. Together, they conducted a "Metaphysical Examination," which was rapidly becoming a benchmark metaphysical exploration.
Dick passed away on September 1, 2020 and is survived by his wife Roberta and their Lhasa Apso puppies. 
For more information: www.dicksutphen.com