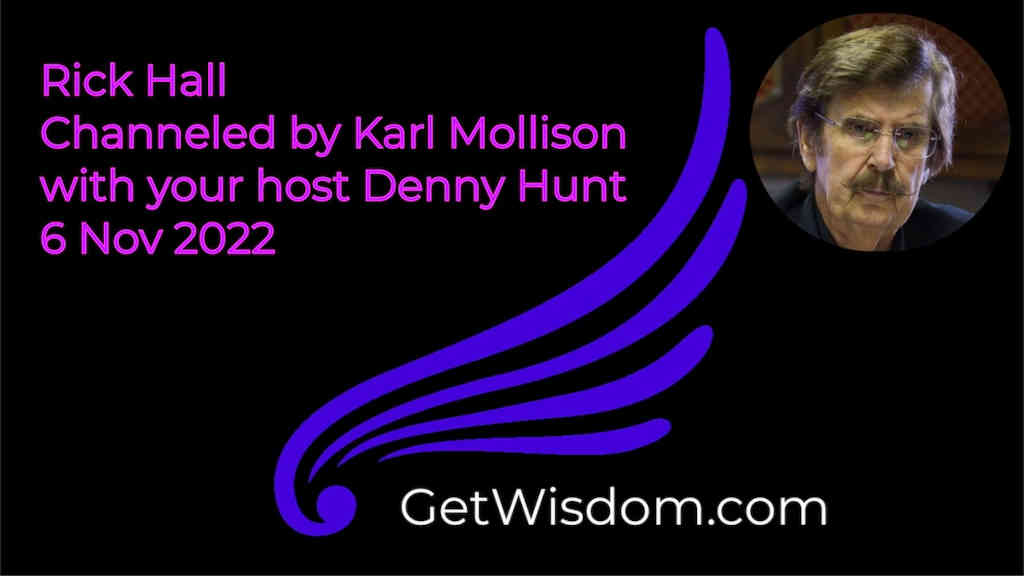 This Video Requires a FREE Participant Membership or Higher


Rick Hall Channeled by Karl Mollison 06Nov2022
From https://en.wikipedia.org/wiki/Rick_Hall
Rick Hall January 31, 1932 – January 2, 2018 
He was an American record producer, songwriter, and musician who became known as the owner of FAME Studios in Muscle Shoals, Alabama.
After his mother left home when young Hall was aged 4, he, along with his sister was raised in rural poverty by his father and grandparents in Franklin County, Alabama. According to The Guardian, Dollie worked in a bordello after leaving the family. His father was a gospel music fan and his uncle gave Rick a mandolin at age 6. Later, he learned to play guitar.
As the "Father of Muscle Shoals Music", he was influential in recording and promoting both country and soul music, and in helping develop the careers of such musicians as Aretha Franklin, Otis Redding, Duane Allman and Etta James.
He had his first songwriting successes in the late 1950s, when George Jones recorded his song "Achin', Breakin' Heart", Brenda Lee recorded "She'll Never Know", and Roy Orbison recorded "Sweet and Innocent".  In 1960, he started a company based in Florence, Alabama, together with fellow ex-Fairlanes member Billy Sherrill, the future producer of Tammy Wynette's records. They named their company FAME (Florence Alabama Music Enterprises) and opened their first primitive studio above a drugstore.
Producer Sam Phillips, originally from Florence, Alabama, was an early mentor. During a 2015 interview with The New York Times, Hall recalled those early days. "We would sit up and talk until 2 o'clock in the morning and Sam would tell me, 'Rick, don't go to Nashville, because they'll eat your soul alive.' I wanted to be like Sam — I wanted to be somebody special."
When both his new bride Faye and his father died within a two-week period in 1957, he suffered depression and began drinking regularly. He later began moving around the area playing guitar, mandolin, and fiddle with a local group, Carmol Taylor and the Country Pals, and first met saxophonist Billy Sherrill.
Hall was inducted into the Alabama Music Hall of Fame in 1985 and also received the John Herbert Orr Pioneer Award.  In 2014, he won the Grammy Trustees Award in recognition of his lengthy career. Hall remained active in the music industry with FAME Studios, FAME Records, and FAME Publishing.
"By the mid-'60s it had become a hotbed for pop musicians of various stripes, including the Rolling Stones, Otis Redding, Wilson Pickett, Clarence Carter, Solomon Burke and Percy Sledge," according to the Los Angeles Times. Singer Aretha Franklin credited Hall for the "turning point" in her career in the mid-1960s, taking her from a struggling artist to the "Queen of Soul". 
According to Hall, one of the reasons for FAME's success at a time of stiff competition from studios in other cities was that he overlooked the issue of race, a perspective he called "colorblind".  "It was a dangerous time, but the studio was a safe haven where blacks and whites could work together in musical harmony," Hall wrote in his autobiography.
Some years after the death of his first wife, he met and married Linda Cross of Leighton, Alabama. The couple had three sons, Rick Jr., Mark, and Rodney.
Hall had five grandchildren, who affectionately called him Pepaw. Hall's life and career are profiled in the 2013 documentary film Muscle Shoals. During an interview before the release of the movie, Hall told a journalist that in 2009, he and his wife had donated their home of 30 years to the Boys and Girls Ranches of Alabama, a charity for abused and neglected children. The house now serves as a home to up to seventeen teenage girls at a time that have been removed from their families through no fault of their own.
In 2014, Hall was awarded the Grammy Trustees Award for his significant contribution to the field of recording.
Hall published his memoirs in a book titled The Man from Muscle Shoals: My Journey from Shame to Fame in 2015.  On December 17, 2016, Hall was awarded an honorary doctorate by the University of North Alabama in Florence.
He died on January 2, 2018, twenty-eight days away from his 86th birthday, at his home in Muscle Shoals, after a battle with prostate cancer.