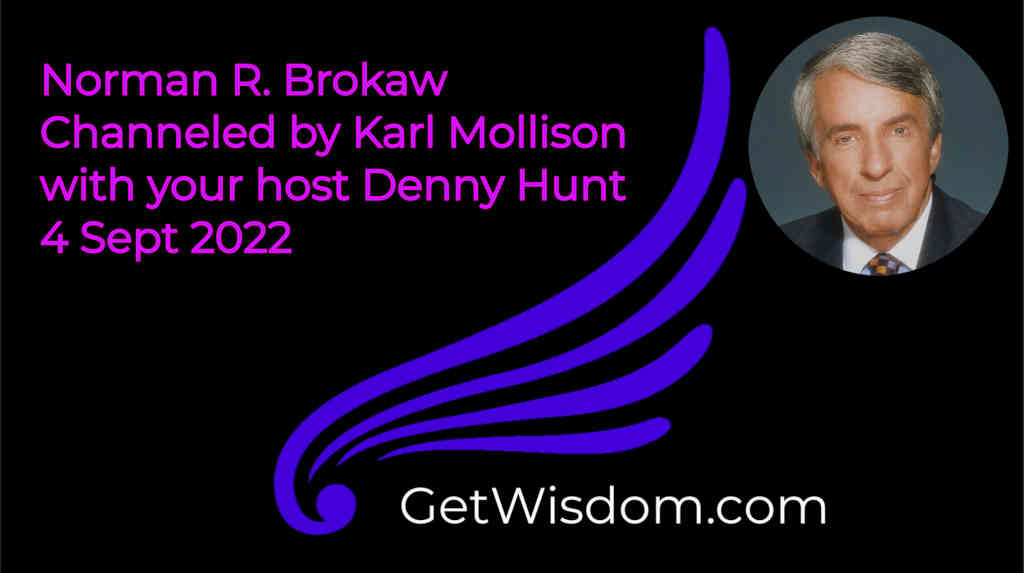 This Video Requires a Supporter Membership or Higher


Norman R. Brokaw Channeled by Karl Mollison 04Sept2022
From https://www.washingtonpost.com/  and https://en.wikipedia.org/wiki/Norman_Brokaw
Norman R. Brokaw April 21, 1927 – October 29, 2016 was an American talent agent.
Norman Brokaw was born on April 21, 1927 in New York City, the son of Marie and Isidore Brokaw. His parents were Russian Jewish immigrants. His maternal grandparents, known as the Haidaburas, were "the first Russian acrobatic dance troupe to appear on the American vaudeville stage".
He served as the president, chief executive officer, and chairman of the William Morris Agency.
Brokaw ascended from the mailroom of the William Morris Agency to become its CEO in 1989. Along the way he helped steer actors to work in the fledgling television industry in the 1950s and later signed politicians such as Gerald Ford and Alexander Haig so they could chart careers after they left public service.
His television plan involved teaming up under-utilized film stars with directors who were skilled at delivering low budget movies within a few days, his family said in a news release. The formula led to the creation of early television series such as "Racket Squad" and "Public Defender."
He later represented the producers behind hit shows such as "The Andy Griffith Show," ''Gomer Pyle," and "The Dick Van Dyke Show."
He also served as Bill Cosby's agent, helping get him cast on "I Spy," which broke television's color barrier. Brokaw went on to craft deals that led to the creation of "The Cosby Show" and the comedian's lucrative work as a pitchman.
"Norman Brokaw was my friend and my agent for many years," songwriter and record executive Berry Gordy wrote in a statement. "He combined those two roles with warmth, humor, true friendship and a rare talent for people–knowing who did what best and how to put them together for success.
The Academy of Television Arts & Sciences in 2010 bestowed its Governor's Award on Brokaw, the only agent to receive the honor.
Part of Brokaw's work with Monroe involved driving the actress to auditions and appearances, his family said. After one appearance, Brokaw and Monroe stopped at the Brown Derby restaurant in Los Angeles for dinner where the actress would first meet her future husband, Joe DiMaggio.
Brokaw was the co-founder of the Betty Ford Cancer Center. He also served as its president. Additionally, he served on the boards of trustees of the Cedars-Sinai Medical Center and the St. Jude Children's Research Hospital.
Brokaw married three times. He had six children: David Brokaw, Sanford Brokaw and Joel Brokaw with his first wife; Barbara Brokaw and Wendy Brokaw Kretchmer with his second wife; and Lauren Brokaw with his third wife, Marguerite Longley.
Brokaw died on October 29, 2016 in Beverly Hills, California. He was 89.