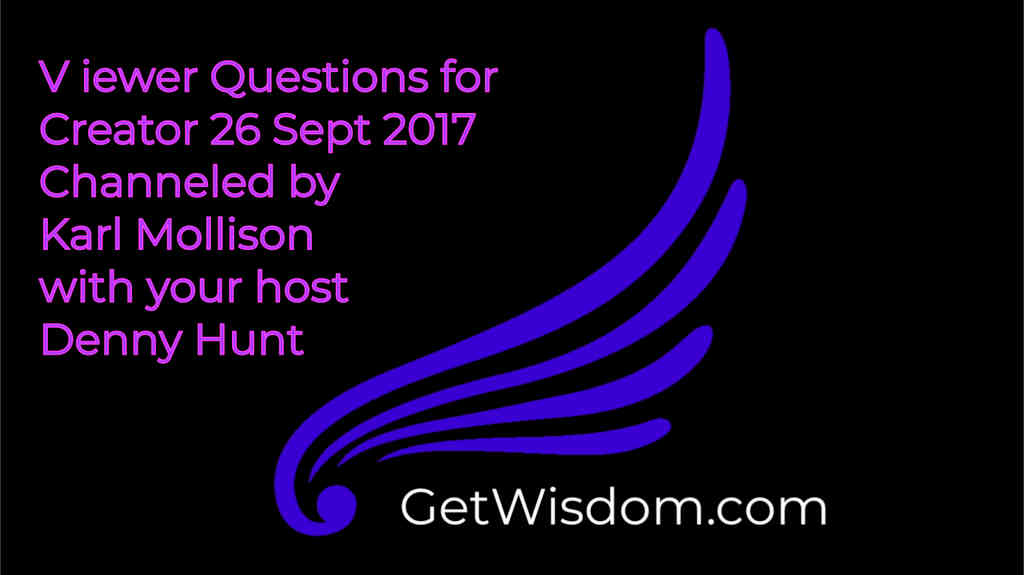 This Video Requires a FREE Participant Membership or Higher


Viewer Questions for Creator Channeled by Karl Mollison 26Sept2017
From Karl –
"So the idea of even talking to Creator is somewhat new for me. It took me years to get here. And I was influenced by the same notions that have been conveyed by the spiritual folk themselves "Oh you can't really talk to Creator there's too much energy there, it would be overwhelming, probably even fatal, if you tried to do that. Creator doesn't deal with us, that's what the angels are for blah, blah, blah" and so on.
And I always assumed that was so."
1)  Is there such a thing as a resistance movement as described by Cobra, and if so, what can you describe about that their members and their activities?
2)  Can you tell us if there are such things as the Yaldaboath entity, with toplet plasma bombs, and plasma primary anomaly?
3)  Are entity attachments the result of an individual agreeing to hold a certain perspective of victimhood?
4)  Since everything is an expression of creation is there any point to resisting anything within All That Is?
5)  Did Jim Marrs successfully transition to the Light?
6)  Did William Tompkins successfully transition to the Light?
7)  Will benevolent ETs contact humans telepathically at this time for the purpose of peaceful contact, and for the purpose of scientific and intercultural exchange?
8)  Is there any truth to the idea that part of the abduction phenomenon is that part of human souls are being removed, and if so by whom, and for what purpose?
9)  Are there other spiritual practices besides prayer that are recommended?
10)  What was the significance of the total solar eclipse across the United Stated on August 21st, 2017, and what effect if any did the mass meditation at 11:11 AM Pacific time have on humanity and the probable timelines?
11)  There are vast bodies of research with hundreds of subjects doing life between life regression where subjects report  not encountering any problems getting to the Light after dying. Why is this the case when we have heard from you that fully 1/3rd of those dying do not successfully transition to the Light?
12)   Who or what is making crop circles, and why?
13)  What is going on with these recent Earth changes: back-to-back hurricanes, huge earthquakes in Mexico, forest fires in the west? And are any of them intentionally human engineered, and/or alien engineered, and if so, why?
14)  Are many types of ET's working together in the human abduction phenomenon?
15)  Dr. Karla Turner mentioned a case where an abductee met a female extraterrestrial who apologized for what others in her race were doing to humanity, and that she and her associates were removing the implants put in by her fellow bad extraterrestrials. What was her real purpose? Was she really a benevolent ET or was this yet another level of deception? You said no extraterrestrials interacting with humans in the physical dimension are benevolent.